AIGA Pittsburgh Confluence
Skills
Web
HTML / CSS / js
Interaction Design
Visual Design
Branding & Identity
Timeframe
8 weeks
(Spring 2021)
Collaborators
Hannah Cai
Jaclyn Saik
Jenna Kim
Role
Concept Development
Branding & Identity
Interaction Design
Web Development


Creating a digital presence for AIGA Pittsburgh's virtual networking fair.
Organized by AIGA's Pittsburgh branch, Confluence is an event designed to expose students and new grads to industry professionals and experiences through a series of company info sessions and workshops.
Our team was tasked with branding the event, creating an event website, and designing social media assets and virtual Zoom conference backgrounds. After establishing the event's visual identity, I primarily worked with Hannah Cai on web and interaction design, and site development.
Event Site
Visit the live website ↗
Due to logistical concerns, this event has been postponed. Certain sections of the site contain filler content until the workshop and company lineup has been confirmed.
Home Page
The home page highlights the event timeframe, provides external links to AIGA Pittsburgh's social media pages and serves as a directory for the event's offerings.
Portfolio Workshops
The Portfolio Workshops page provides an overview of sessions hosted by industry professionals. Participants are able to register for sessions on this page.
Employer Info Sessions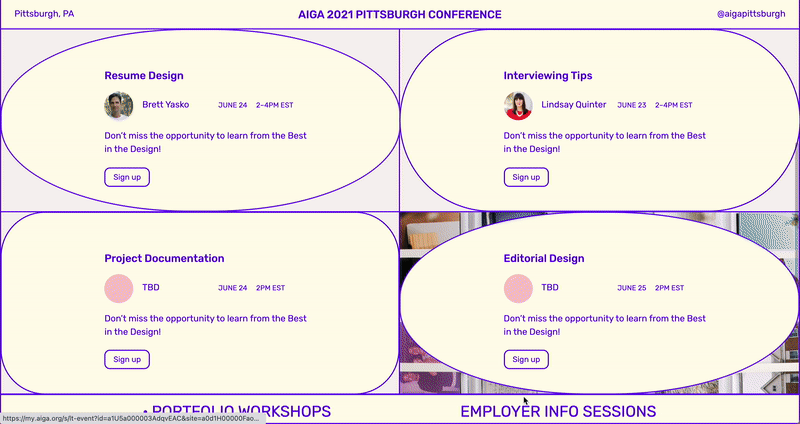 The Employer Info Sessions page outlines the schedule of the information sessions happening over the duration of the conference. It introduces companies and studios to prospective participants, and allows them to find out more and add sessions to their calendar.
Social Media Assets
Drawing upon the shape grammar and gradients used on our website1, our social media assets and Zoom backgrounds aim to create visual continuity throughout all event materials.
Visual Foundations
Despite being an event associated with an established organization, our team was given creative freedom to brand the event without reference to guidelines. Whilst discussing possible directions for the event's identity, we created a word cloud to guide the visual direction of the event. Some words we gravitated towards include diversity and self-made, as this event intends to connect young creatives regardless of their background and encounters with design, encouraging, as this event aims to answer questions and encourage job seekers in the pandemic, and toolkit, as this event hopes to give job seekers to tools to prepare for a career in design.
Following our compass, we looked for visual and interaction references that embodied our key themes. In terms of visual direction, to characterize diversity, we looked at references that were graphic, geometric and additive to represent the coming together of different people and experiences. We also looked at more analog references that represented self-made and DIY culture, though we felt as though such references might not be inclusive of mediums of design.
In terms of interactions, we were particularly interested in scratching interactions that could reveal hidden messages of encouragement for pandemic job seekers, but we felt as though this interaction might not be appropriate for event information. We also gravitated towards object movement2, based on mouse interaction, which could provide a feeling of tangibility and guide participants towards useful information.
Event Identity
Ultimately, we settled on a shape heavy design to celebrate diversity in participants and professions, and a mouse position driven background gradient to incoorporate an element of playfulness and drama with unexpected reveals.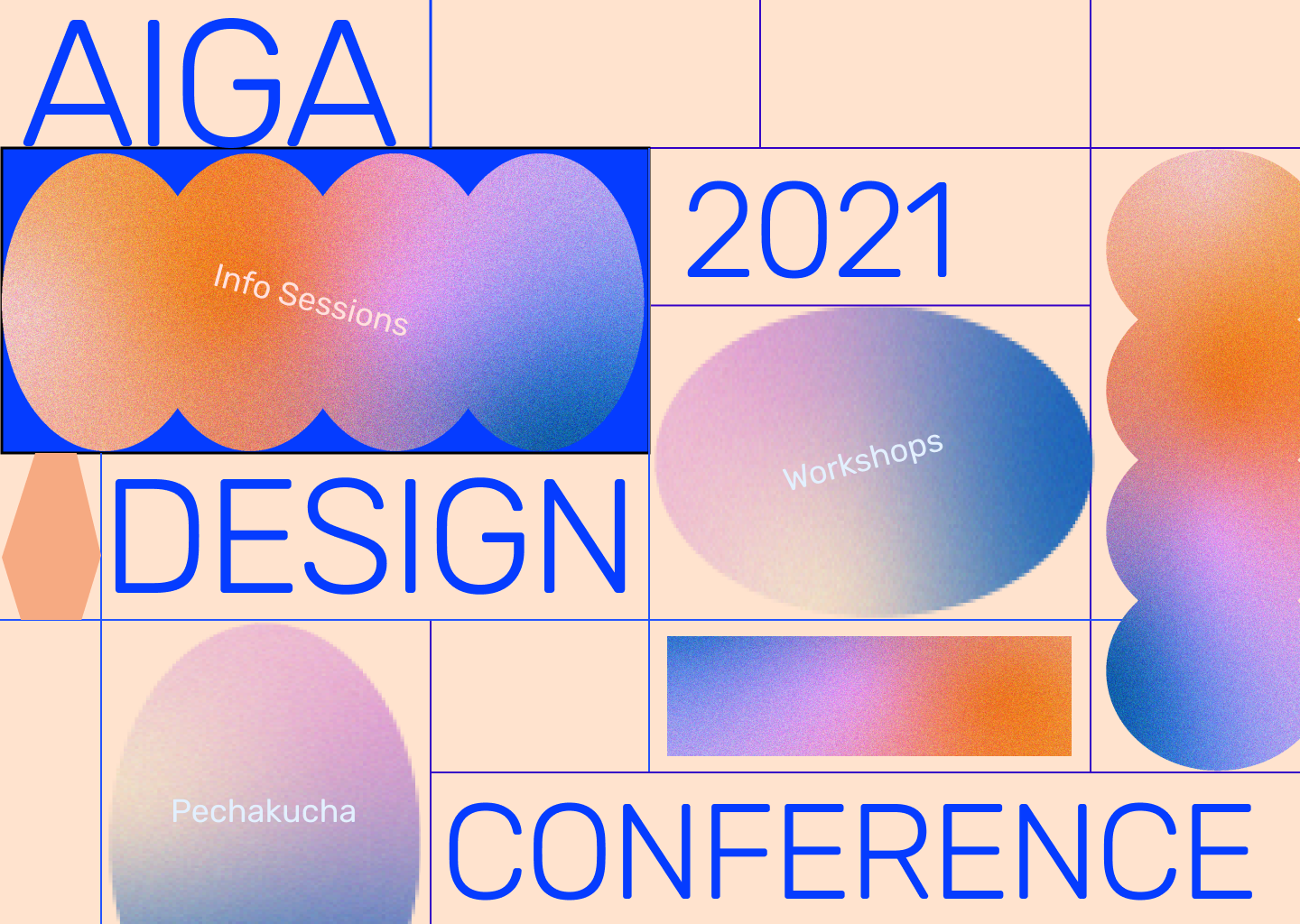 Final Thoughts
The four of us worked on this project on the cusp of graduating in the second year of the pandemic. We worked with the hope that this event could provide something meaningful to young designers hoping to start their career, which made this project very meaingful for us. Throughout the process, what surprised me the most were the results of the implementation process. Hannah and I created interactions that I didn't think were possible, and realised the technical constraints of certain designs. For example, many of our designs adapted due to issues with mobile scalability and browser loading speeds. I learned to be more efficient with my code, and to create continuity across site pages despite slight differences in interactions and visuals.