Perspective
Skills
Augmented Reality
Experience Design
Design Research
UXUI
Timeframe
2 weeks
(Fall 2018)
Overview
Using mixed reality wearables to enhance the campus tour experience 10 years into the future.

When high schoolers are researching colleges, a compelling campus tour is a significant decision making factor for students. Campus tours at CMU come in two forms: a student-led general campus tour, and a self guided tour, whereby visitors are led around campus via a PDF map. Through this project, I was challenged to consider how to create a more engaging tour experience that facilitates storytelling, conveys useful information about the university, and delights users using AR wearables.

I created a four part tour that focuses on providing visitors with a personalised experience to shed insight into what attending CMU for 4 years is like.

The Experience
Part 1: Pre-Tour Customisation
The day before the scheduled tour, visitors log into the mobile app and confirm their tour registration information. They then choose answers to customise their tour experience, which generates a custom tour route. The route is synced with the visitor's mixed reality wearable for when they step onto campus.

Part 2: On Site Navigation
On the day of the tour, visitors follow directions that are position sensitive to landmarks around campus.


Part 3: Tour Stops That Traverse Time
When users reach the designated stop, they interact with an experience that highlights what the 4 year college experience is like at CMU in the context of the given space. The position sensitive interaction focuses on student takeaways and experiences at Carnegie Mellon over the course of time in order to provide a holistic picture of what it is like to attend the institution.

In this scenario, Kaitlyn, a potential applicant, is interacting with the School of Design tour stop.
Part 4: Post-Tour Experience
As users visit more stops, they are able to unlock summary information about each location, sync mixed reality device photos and videos from their interactions with each stop and make notes to remember their impressions of each destination. This allows visitors to better preserve the tour experience in their memory.
---
Initial Research
I began the investigation phase of the project by going on a student led campus tour to better understand the tour structure, goals of the guides and what an ideal tour is like. Following the tour, I interviewed Sunny, our tour guide, and Rachel, a veteran tour guide at CMU as well as her boarding school. These conversations allowed me to gain perspectives about what makes a successful tour, as well as the difficulties in achieving such standards.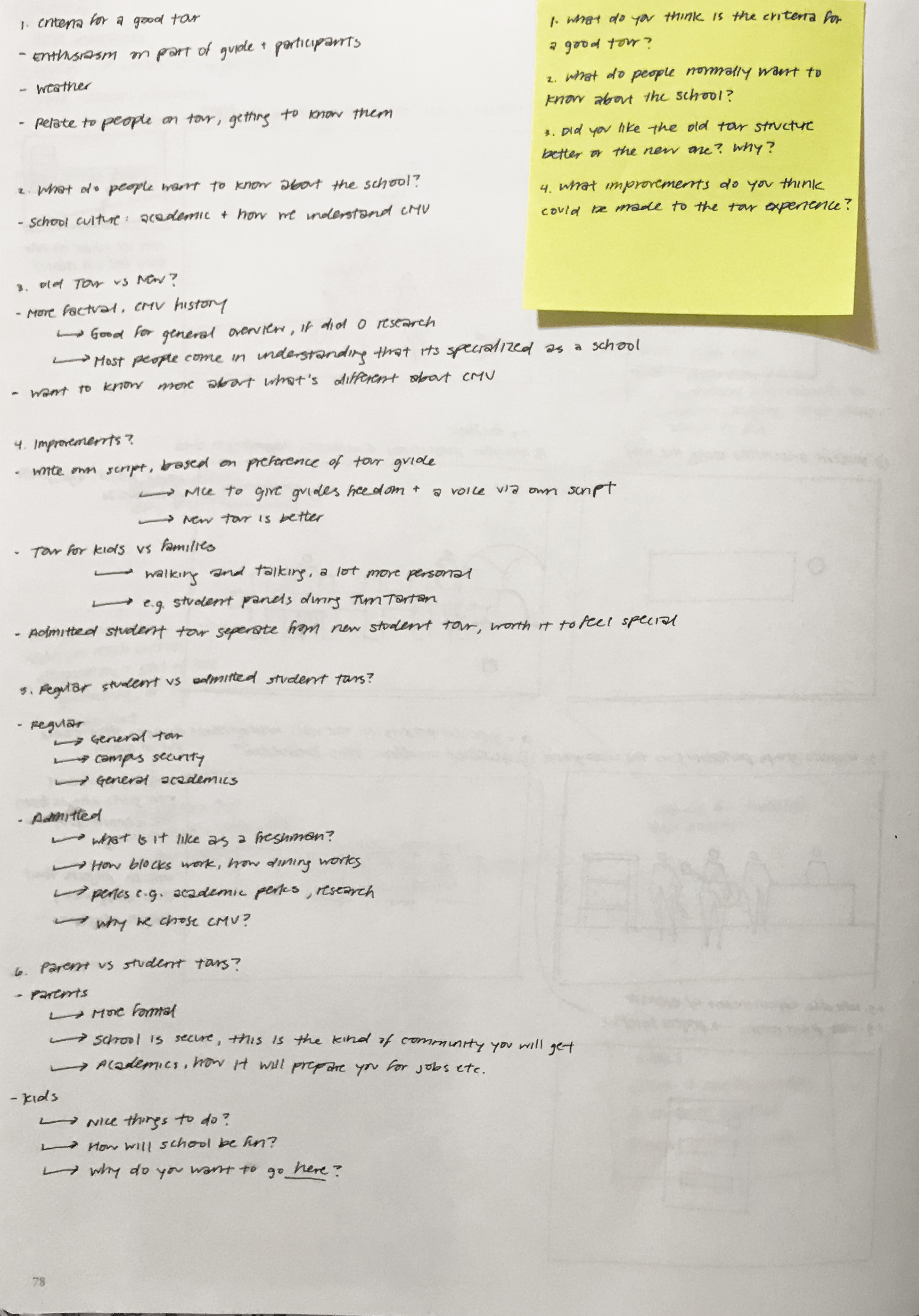 Stakeholders and Personas
With a clearer understanding of the needs, wants and expectations of those who attend campus tours, I created a fictitious persona to understand perspectives of those using the proposed service, and as a decision making guide for key features and usability. My persona is a high school student applying to college, as this target group benefits from campus tours the most.


Augmented Reality Wearables
Investigating a number of existing mixed reality headsets (Microsoft Hololens, Oculus Rift, HTC Vive) allowed me to get a better understanding of the affordances of designing for hybrid environments, as well as the capabilities of such technologies. I primarily explored the Hololens, working under the assumption that 10 years into the future the physical attributes and function of the headset would have significant improvements.


Defining the Problem
Current campus tours at CMU lack consistent opportunities for every visitor to get personalised attention and perspectives that will strongly inform college decision making processes. The PDF map self guided tour in particular is not engaging, and does not illustrate what campus life is like to its full extent.

Ideating Tour Concepts
If you're interested in learning about the in depth process for this project, you can read more on my Medium blog here.

I began my ideation phase by brainstorming, storyboarding, and producing low-fi prototypes. Initially, I had two main tour concepts:

1. Users customise their tour by indicating their interests and preferences via an app prior to the tour. While on tour, visitors are guided via a floor arrow, and using AR to show students traditions, special events and daily life at CMU.

2. Users begin with a similar onboarding process. On the tour, participants engage in a geocaching/ treasure hunt like experience that allows them to discover a box of artefacts relevant to their interests and the specific locations on tour.

I was interested in further pursuing the latter idea because there is an element of novelty and excitement with a scavenger hunt that I thought would create an engaging and memorable experience. Ultimately, I decided against this direction because looking solely for boxes defeated the purpose of having a mixed reality tour, as the visitor would not be engaging with the campus environment and learning about the surroundings.


Prototyping
I revisited my persona and made a list of features to include for the pre and post tour interaction. Wireframing and making prototypes on Sketch allowed me to better understand the user flow and define the structure of the app experience.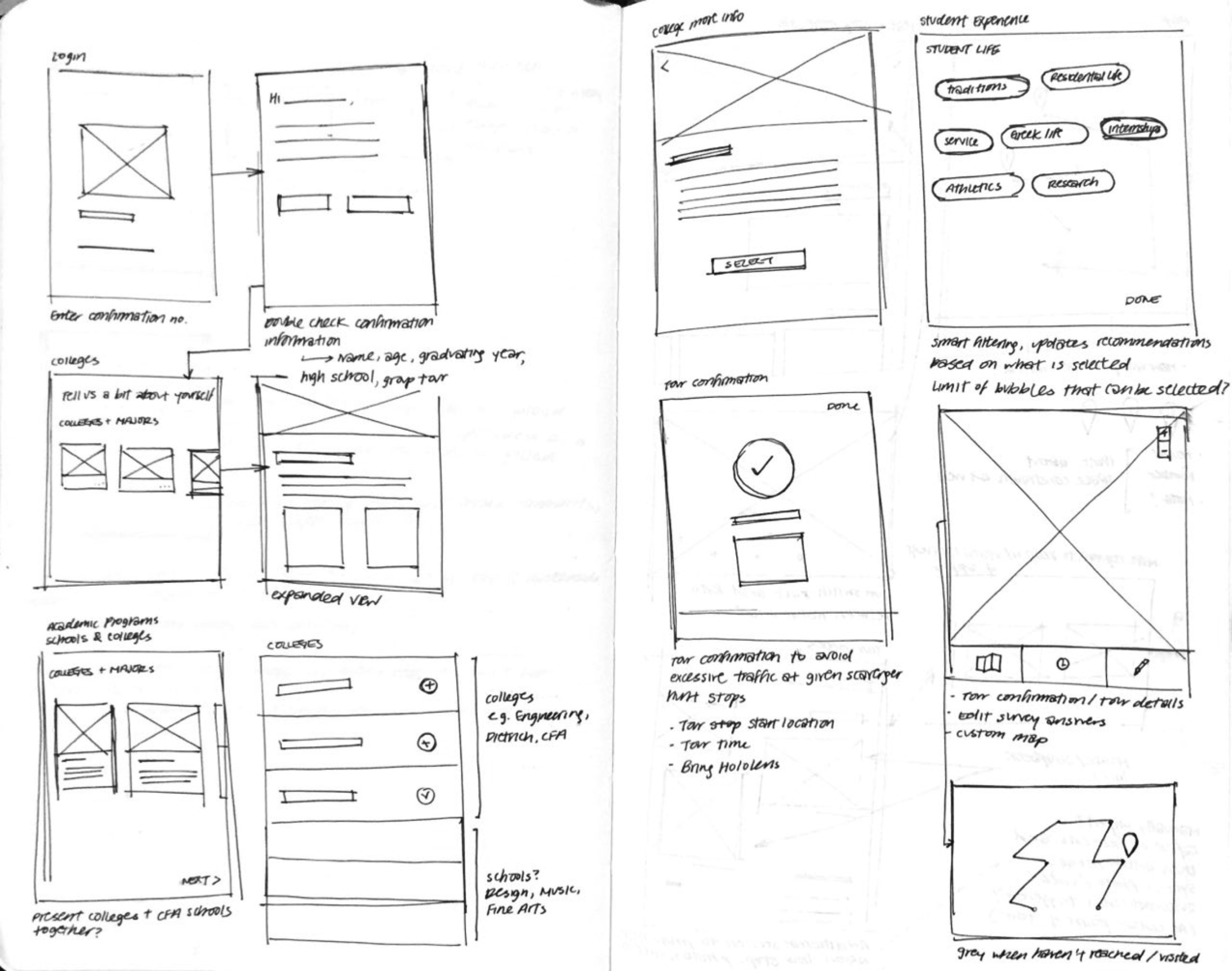 Future Steps
If I were to revisit this project, I would explore how the app based experience of onboarding and unlocking/ saving information whilst on tour could be better integrated with the mixed reality headset as opposed to a mobile device.