Stephen Lim
Skills
Visual Communication
Print
UXUI
Interaction Design
Timeframe
6 weeks
(Spring 2019)
Overview
Visualising the life and work of CMU School of Design alumni, Stephen Lim.
I created a zine and a mobile experience documenting the living history of CMU School of Design school alum, Stephen Lim. As part of a series dedicated to SoD alumni, I was also challenged to consider how Stephen's narrative fit within the scope of his peers from university, other practitioners, and my own journey in the field of design.


---
Initial Research
In the initial stages of research, I primarily focused on exploring Stephen's body of work and collecting information about his life through email correspondence and survey results.

Since the deliverables of this project lived within a greater system of design narratives, I also looked into the career of Stefan Sagmeister, one of Stephen's biggest inspirations, as well as the lives of other SoD alumni. Visualising connections between the three groups using post-it clusters and writing a narrative allowed me to gain more clarity about how the designers were connected.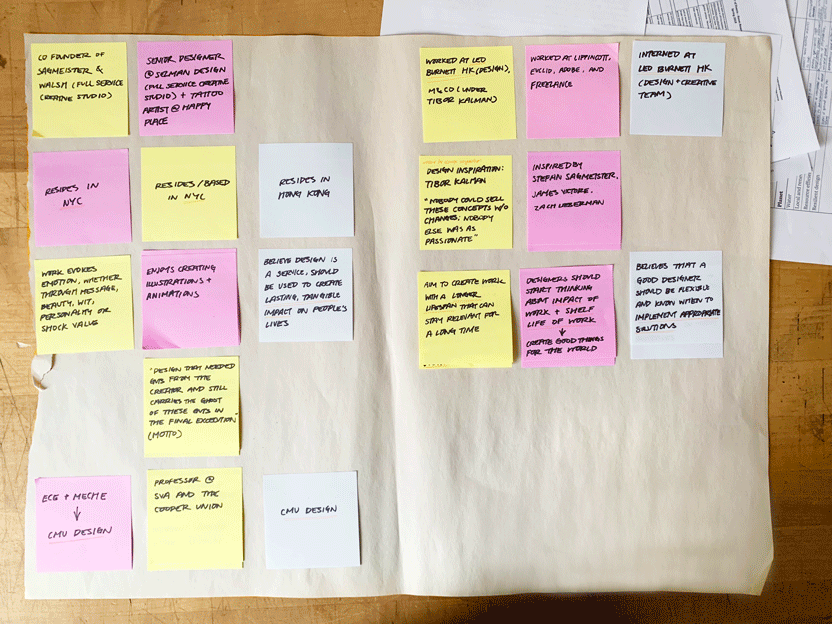 I also spent time exploring how various digital platforms utilise visual, temporal and text based mediums to introduce narratives. I explored the editorial medium by looking into the New York Times, and more story based mediums by investigating the exhibition site for the Smithsonian National Museum of the American Indians.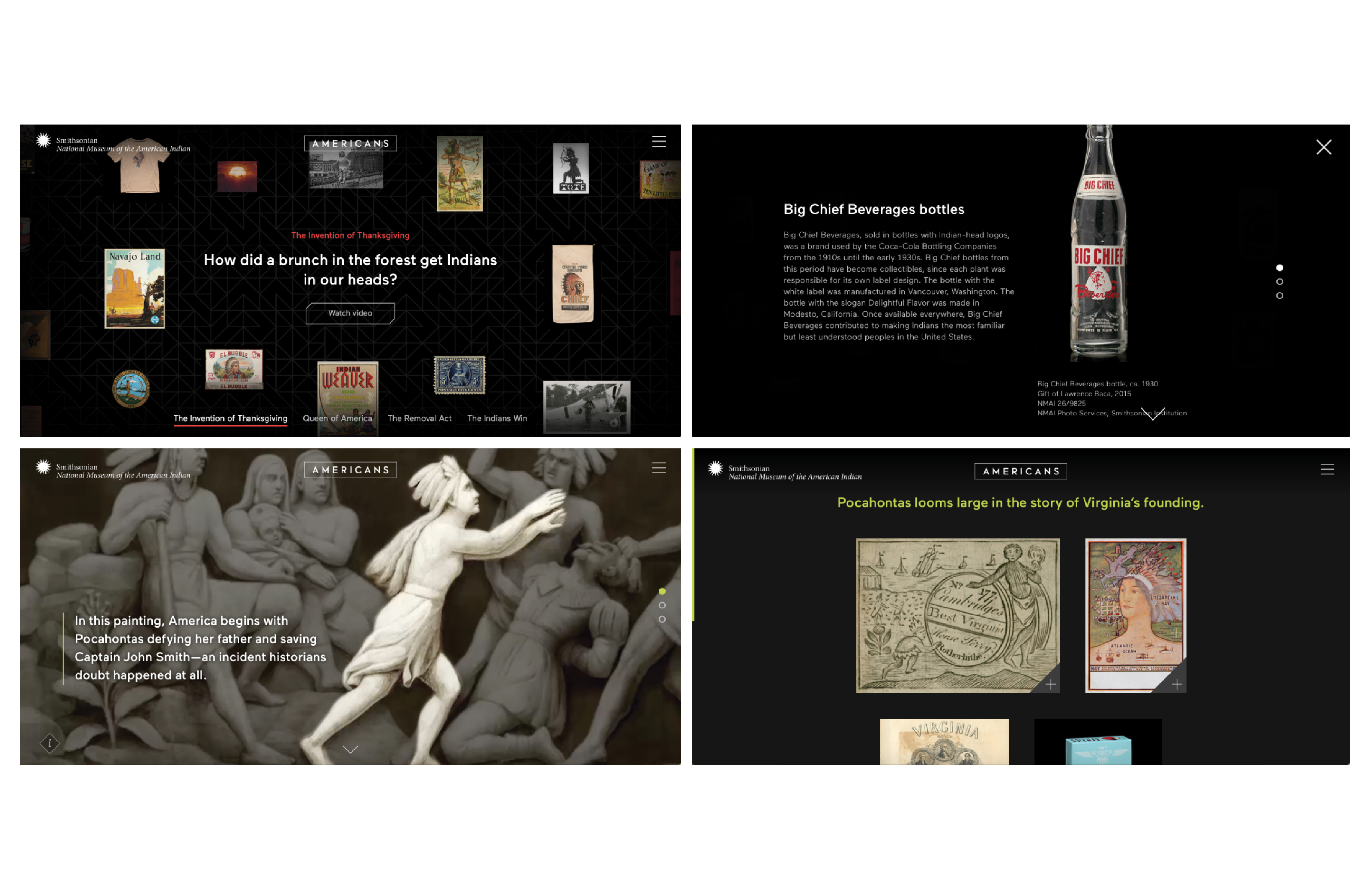 Designing the Visual System
When considering the visual vocabulary of my print and digital systems, I created mood boards, color palettes and type specifications that felt reminiscent of the bright and ecclectic personalities and body of work of Stephen and Stefan. Such methods of visual brainstorming allowed me to better understand the aesthetic and thematic similarities between the two designers work, and consider what kind of visual treatment could best capture their essence.


Thumbnailing
After establishing my visual voice and collecting the necessary content for my print and digital piece, I moved onto thumbnailing to determine which compositions and visual style I resonated with the most.


Prototyping
For my mid-fi and high-fi print and digital prototypes, I wanted to create compositions that felt flexible and dynamic through hand drawn elements, vibrant colors and shifting grid systems, since Stephen's work is very playful and whimsical.

My biggest challenge throughout the prototyping stage was determining how to keep the information across the two platforms consistent, but allow the affordances of the mediums to determine how the content might be presented differently.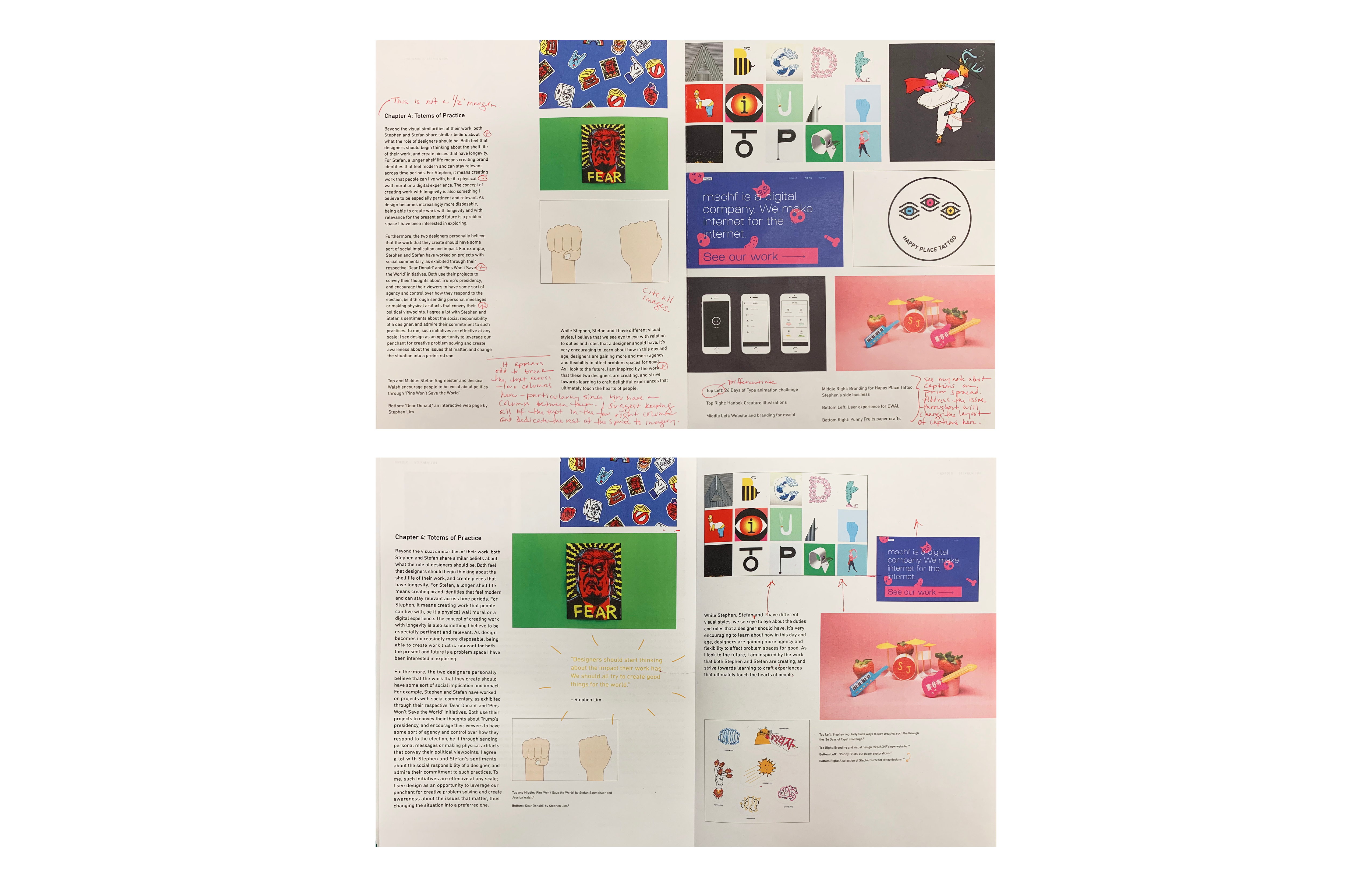 Key Takeaways
Throughout this project, I learned how to be versatile as a designer by gaining a deep understanding of my subject. While Stephen and I have different visual voices, investing time into learning about his background, current practice and aspirations made it easier for me to adapt and create a visual vocabulary that felt true to him.

Further, I learned how to create consistency across multi-platform systems, but allow for medium specific adaptations that best showcase the content.