The New Norm
Skills
Visual Communication
Systems Design
Data Visualization
HTML/CSS/ js
Timeframe
4 weeks
(Spring 2019)
Collaborators
Jaclyn Saik
Overview
Using collaborative data visualisation to encourage beverage container reuse on campus.
The New Norm is a 4 part community wide initiative that strives to shift the culture of beverage consumption from throw-a-way to mindful on college campuses. Our system leverages participatory design and real time data visualisation to contextualise individual impact within a community wide effort to be more conscious about reuse.

I was responsible for designing the visual language, iterating on system components and coding the responsive site.

The System
Phase 1: See the Visuals in Person
Our experience begins at one of the several coffee vendors on CMU's campus. As students wait in line to order a drink, they see the real-time data visualisation that keeps track of campus wide efforts to use reusable beverage containers for the week.


Phase 2: Visit cmureuse.org

As users view the large scale visualisation up close, they are led to visit cmureuse.org, a platform that provides them with the discount information and advice for participating in The New Norm initiative. From here, they are equipped with the relevant resources and motivation to bring their own mug to campus.

Visit the site here.


Phase 3: Bring a Reusable Mug
When students bring a reusable mug and pay for their beverage, they are given stickers, window clings and their receipt. The reusable container discount is registered in real-time on the data visualisation through a program that communicates with campus cash registers. The information adds a new data point on the visualisation that builds to form the catch 'The New Norm'.


Phase 4: Decorate with Stickers
With an awareness of the initiative, students can use stickers on their beverage containers and window clings to remember their commitment to reusability on campus. These artefacts are reminders for the user and a symbol of community.


---
Understanding the Problem
As a client project requested by CMU Dining Services, our team was challenged to design a system that would encourage and aid the use of reusable materials amongst college students.

In order to better understand student needs and pain points regarding the lack of reuse on campus, Jaclyn and I began by surveying undergraduates through online groups and forums. We were most curious to learn about current reuse habits, knowledge of campus resources and initiatives, and the extent to which students were willing to change their consumption habits.


We received 62 responses from students. Our initial research made it clear that students had a desire to change their reuse habits, but bringing around reusable containers and silverware was impractical due to the lack of cleaning resources and time, as well as the widespread availability of disposable packaging. Further, food safety regulations made it difficult to use reusable lunchboxes on campus.

As such, we decided to focus our efforts on promoting the use of reusable beverage containers, since a number of coffee vendors provide students with discounts upon bringing a mug, an incentive many students expressed interest in.

Since many of the students we surveyed also expressed confusion about the current reuse initiatives available at each dining location, we felt that it was important to include resources to raise awareness about how individuals can be more conscious of their consumption habits.


Strategy and Approach
We quickly became interested in the concept of measuring individual and communal impact via data visualisation. We felt that displaying tracked data about people's reuse habits would create opportunities for conversation and reflection, positioning community members to create positive change.

We were also interested in creating an intervention with emotional durability, to create a connection between users and artefacts, such as reusable containers, to encourage long term use.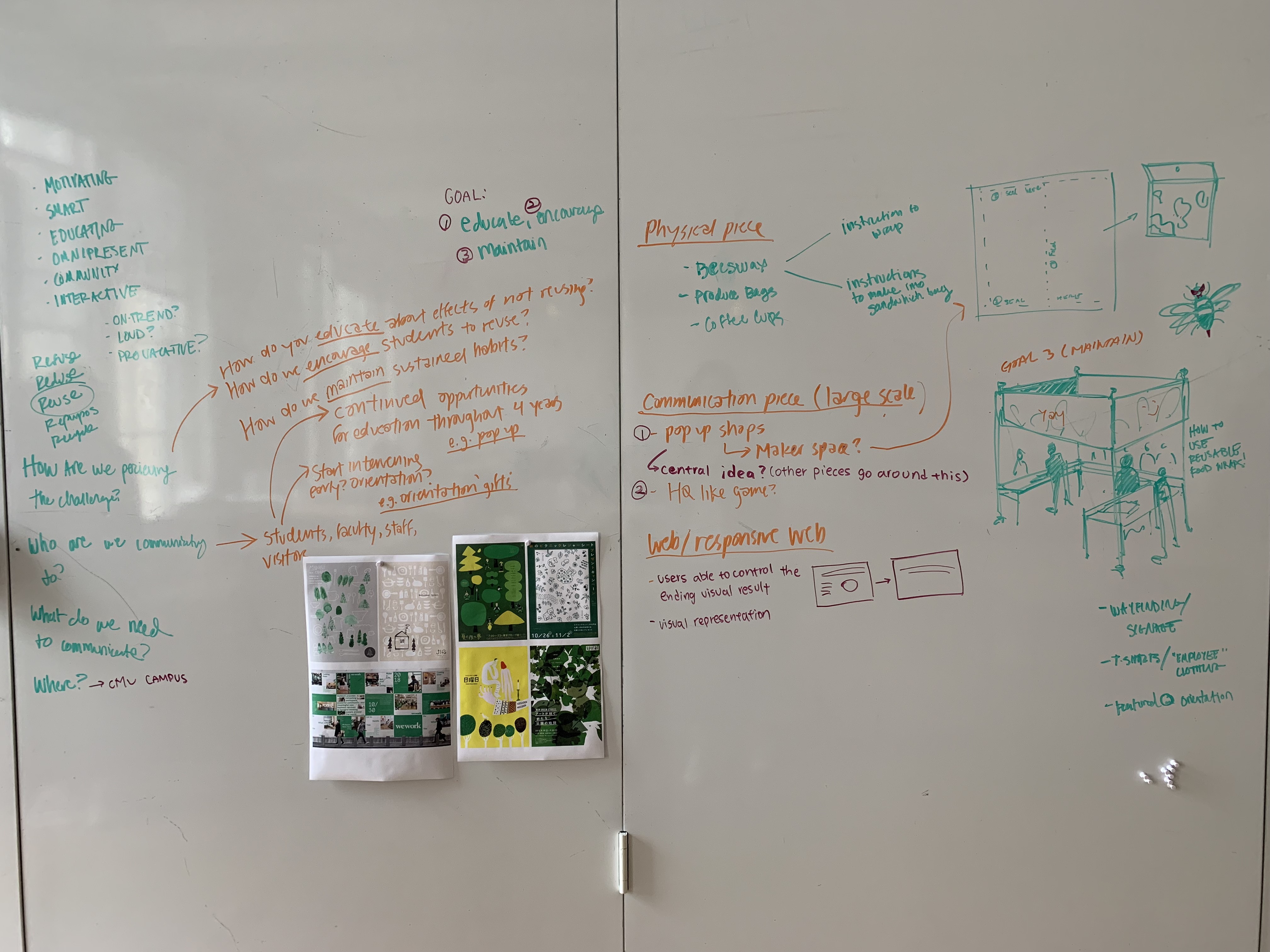 Initial Iterations
In the initial brainstorming phase, Jaclyn and I were interested in the idea of creating pledges that would allow community members to reflect on their habits and desire to change. We imagined that the pledges could be stuck on water bottles, or be used in a print campaign. However, we eventually moved away from this direction as the success of this concept seemed very dependent on active student participation.

We then began investigating ways to use immediately accessible data, such as the information a user's drink order contains. We tried to think of ways to present this information in an exciting way, such as through a visualisation that requires participation to complete the composition, and incorporate goal setting that people could work towards together.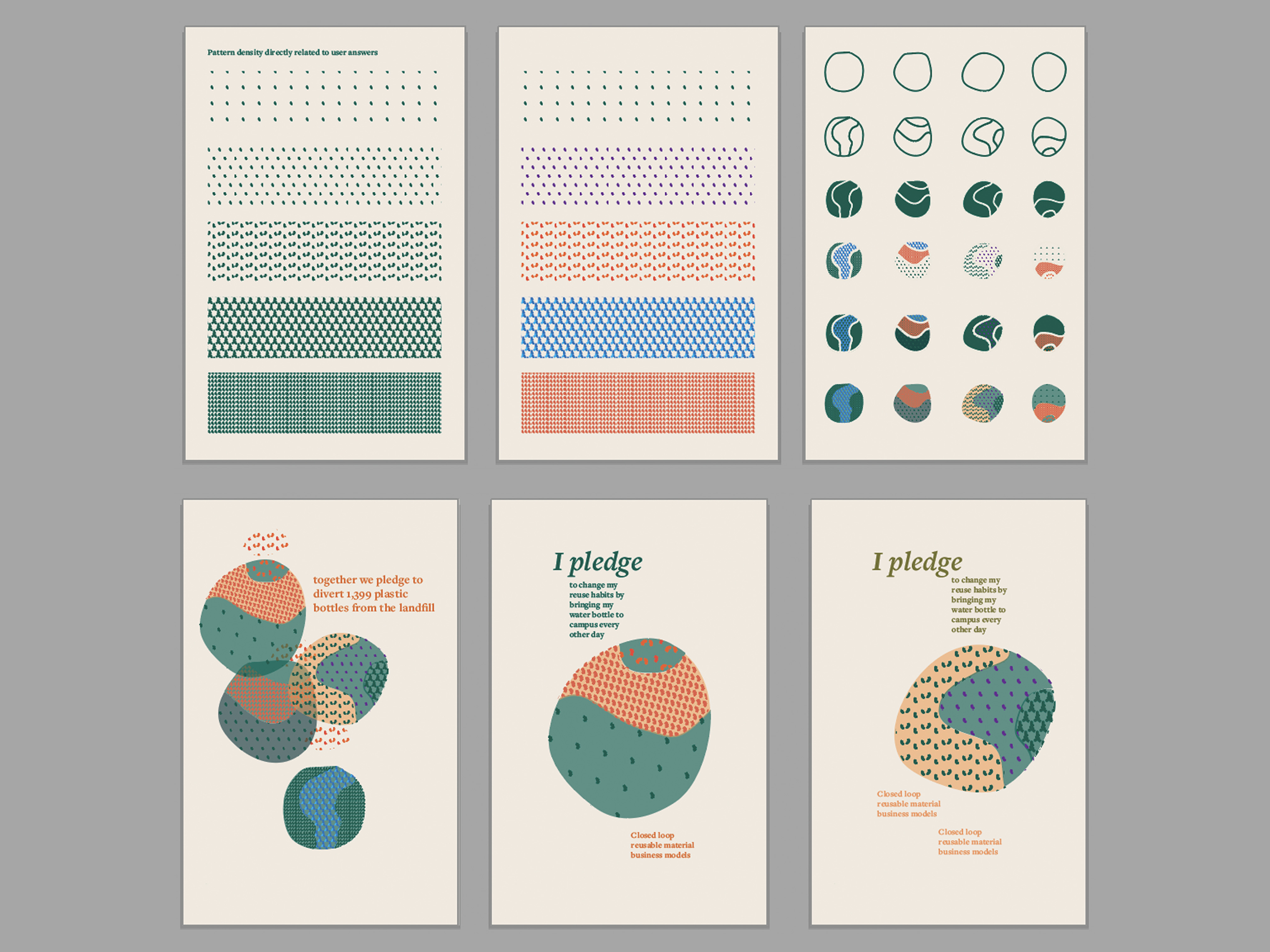 Developing the Visual Language
Since our intervention is largely driven by data visualisation, we wanted our visual system to feel modular, and hence decided to base it largely off grids. We wanted a type system that was friendly and clean, but also flexible. Hence, we paired Neue Haas Unica with custom type I created based off a circle grid to emphasize how the letterforms were buildable with the addition of each user generated data point. Color wise, we gravitated towards energizing and motivating palettes that promote sustainability and mindful action.


Final Presentation and Future Steps
We ended the project by making a presentation to Dining Services. Jaclyn and I received positive feedback, with many appreciating our efforts of approaching the problem on both individual and communal scales.

If we were to further develop this project, we would think about creating customized weekly challenges, and incoorporating data from over time to measure progress. We would also think about finding more ways to speak to the students who always forget their mugs at home, pushing the reminder element of the initiative a little further by intervening in mobile interfaces.